Dance teachers
Ballroom
Aclo course/Sprint beginners: Daniël Lourens and Florélie Rogier
Beginners A: Idsert Timmer and Margriet Vegter
Beginners B: Djurre de Boer and Lisette Stam
Advanced 1: Matthijs Slaghekke, Matthijs Spaan and Shelly Kemp
Advanced 2: Daniël Lourens, Ylse Wierda and Astrid van den Hoogen
Advanced 3 and Competition training: Etiënne Hoogstraten and Anneke Poort
Technique lesson and Demoteam Training: Marcus van Teijlingen
Salsa
Beginners A: Lisette Stam en Klodia Saado
Beginners B: Chakir Bouziane en Loes Holleboom
Advanced 1: Chakir Bouziane, Lisette Stam and Loes Holleboom
Demoteam Training and Advanced 3: Marloes van der Ark
---
Astrid van den Hoogen
Hi there. I am Astrid van den Hoogen, dance fanatic. Next to my job as a doctor I tend to spend (too) much time on my hobby. Before my membership with the Blue Toes I danced for a little while in Wijchen, while I still lived with my parents. But my real dance years started when I became a member of this nice society five years ago, where I started in the dance group advanced 1. Meanwhile I don't dance group lessons anymore, but I'm very active in training and dancing competitions with Idsert Timmer. This year will be the third year I'm teaching within the Blue Toes. This year I teach beginners B and advanced 1, which I enjoy very much. Next to teaching I am active as competition coordinator and I joined the Gala Committee. So in short, you can never have enough dancing in your life. Please start dancing more and more, it will make / keep you very happy!
---
Daniël Lourens
Hiya! My name is Daniël Lourens and, together with Susanne, I'll be teaching Beginners A this year. I study Applied Social Psychology, but I'd much rather waste my time dancing. Everything has to make way for it! I started ballroom dancing six years ago, and I've enjoyed every single step since. Susanne and I have been dance partners for two years now, and we jumped into competitions right away. This goes well! Personally, I think it's important the dance is clean. I like to have precise know-how of every single step. Mastering the details doesn't just make it look easier, it really becomes easier! Learning that, on the other hand, is often quite challenging. I love that challenge. Don't be afraid to ask tough questions in class either. As long as we're still having fun, of course! I also dance in our demoteam, and I'm the chair of the Music Committee. For fun, I like to play the guitar, play board games, and go out for drinks. You probably won't miss me during Blue Toes events either, because aside from dancing I enjoy the nature of this spirited association and even more spirited members. It made me feel welcomed and gave me the opportunity to develop as an enthusiastic ballroom dancer. This, obviously, I wish upon everyone, and so it is with great joy that I get to teach you in our class!
---
Djurre de Boer
Hi, I am Djurre de Boer and will admit I'm addicted to dancing. This year I teach the advanced 1 lesson together with Astrid. I have already danced for many years, I started in September of 2004. And I joined the Blue Toes in 2015. Through these years I've learned many different styles but always came back to Ballroom and Latin dancing. I do still regularly compete in competitions and I attend dance evenings. If you ever got questions, just ask them, I'm glad to help.
---
Idsert Timmer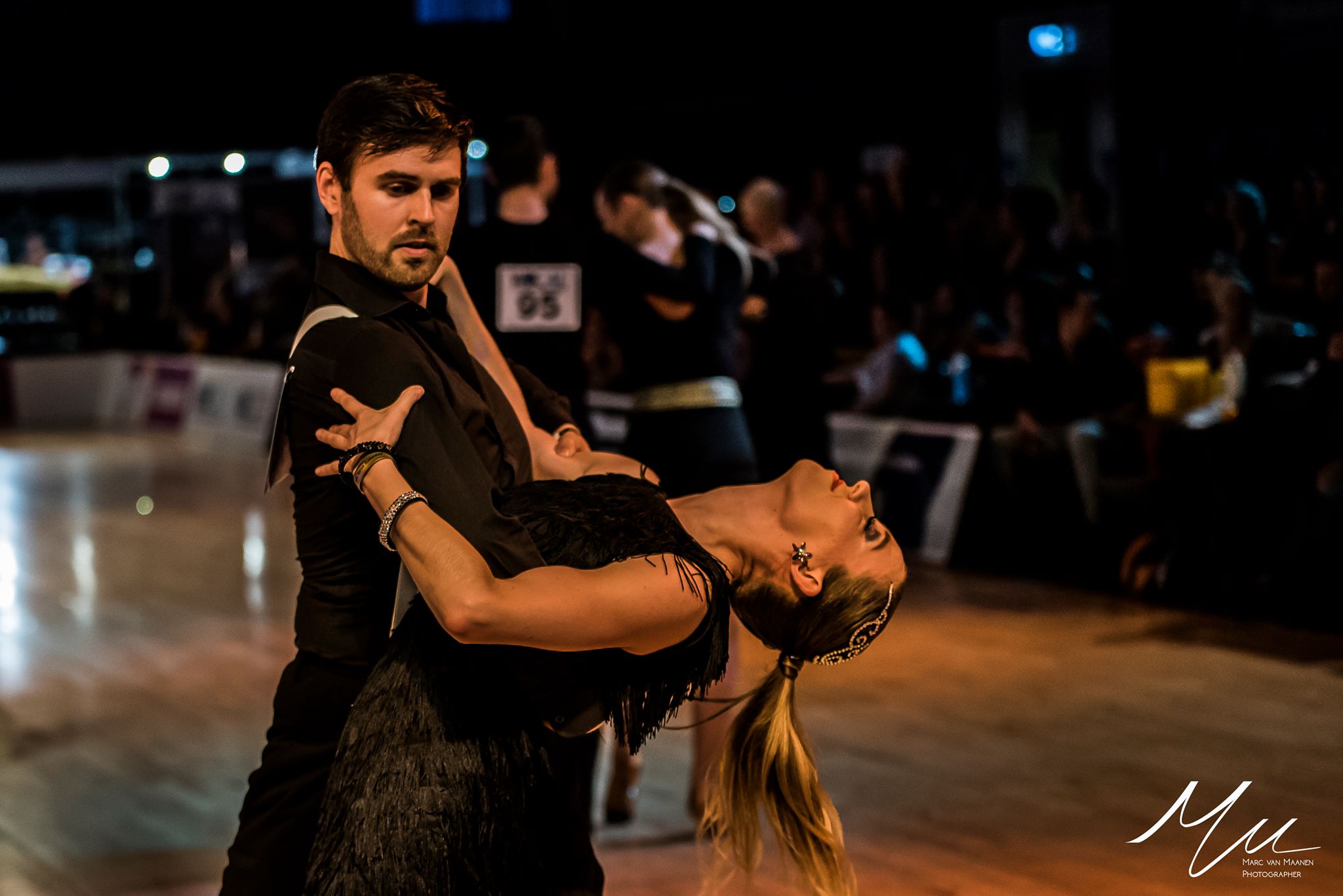 WARNING!!!, Life is amazing when you activate your body. Your body activates and follows when you dance with your heart.
How can you make the heart dance? Simple, just give it a beat. Please don't let my face scare you, ask me for a dance. My passions are: Dancing, organizing, nature and IT. If you have a solution to combine, let me know! My lessons are technical with lots of fun to help you get into this addiction faster. If you managed to read through all of this shit, I've got one last joke for you; "Why was the butterfly not allowed to enter the dance night? …..It was a moth ball."
---
Lisette Stam
---
Matthijs Slaghekke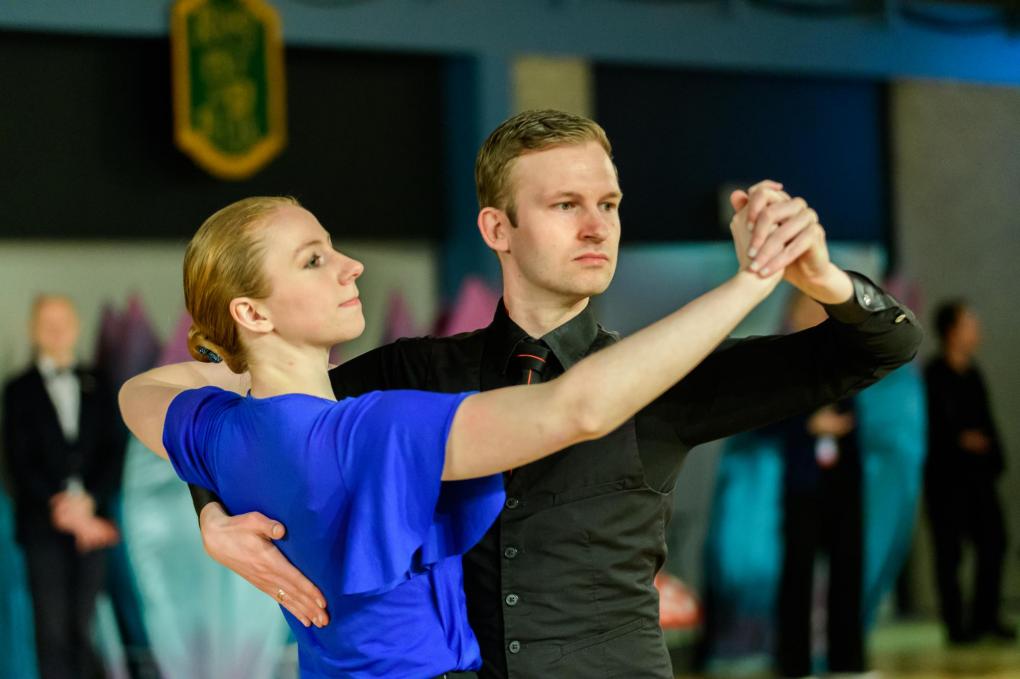 Hi! My name is Matthijs and I'm 29 years old. This year I will be teaching the Advanced 1 course together with Daniël and Lisette. I started dancing when I was around 15 years old, and I've been a member for a little over 9 years now. In the past I've been part of the demoteam, the board and among other things did a fair amount of pubquizzes for the Blue Toes. Next to that I now also have a role as a member of the treasury committee and the Advisory Board. Next this I also dance competitions with my wife, Frederike (see the photo of us above).
At the Blue Toes we do not simply teach you the steps, but we want to make real dancers out of everyone. And as a teacher I like to emphasize the basics. Not because I don't like fancy steps, but because the basics can make those fancy steps even fancier, and really bring your dance to life. A proper understanding and execution of these basic concepts is key to being a good dancer. I hope i can teach everyone some of these things in the classes. See you there!
---
Matthijs Spaan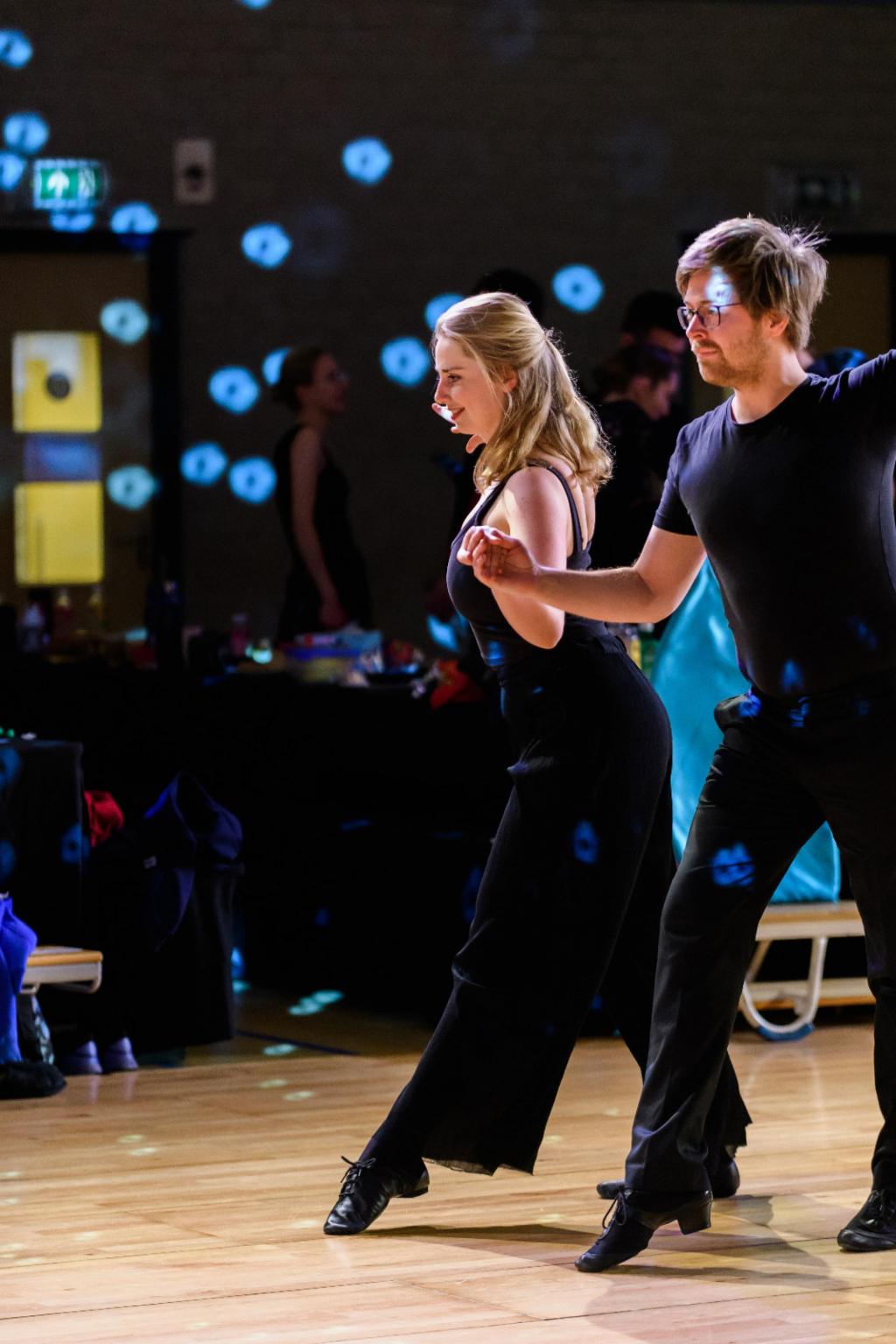 Hello, I'm Matthijs Spaan, 31 years old. I've been dancing for roughly 6 years (with a year break in between) and from the first couple of lessons I knew that this would be my new favourite hobby. This year I'm teaching Beginners on Friday and you can regularly see me jump and dance through the hall. During my lessons I tend to have a focus on letting people enjoy themself in dance and I like to keep it light. Technique is important of course, but that will come as long as you're enjoying yourself!
---
Shelly Kemp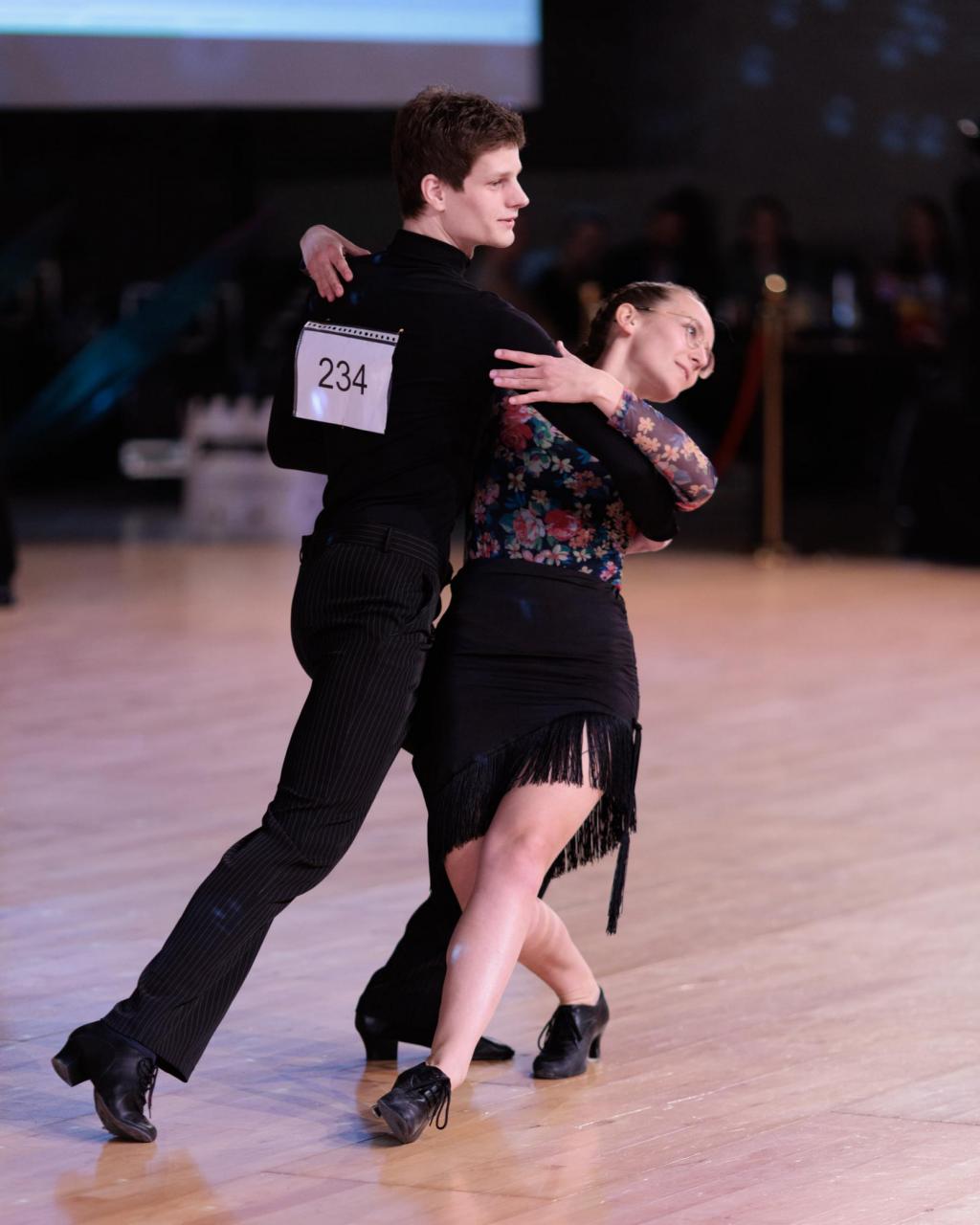 Hi! My name is Shelly and I'm a member of the Blue Toes since 2017. I joined the association via the aclo salsa course and at the beginning of the year I couldn't choose between salsa and ballroom. Why not both!? As an enthusiastic beginner I danced as much as I could and joined many salsa parties. I dance the ballroom classes with Justin since the first lessons and we started dancing competitions pretty soon. The classes are still so much fun and it's great to have a goal together.
Starting with a year in the activity committee, followed by a super fun board year had me infected with the Blue Toes virus. Nowadays I'm still active as the chair of the RVA, I also help the board with organizing some activities and give salsa workshops every now and then. Since 2022 I'm a member of the dance teachers and I hope to pass through the enthusiasm for dancing to the new students, who can become (just like I did) addicted to dancing and to the association!
---
Ylse Wierda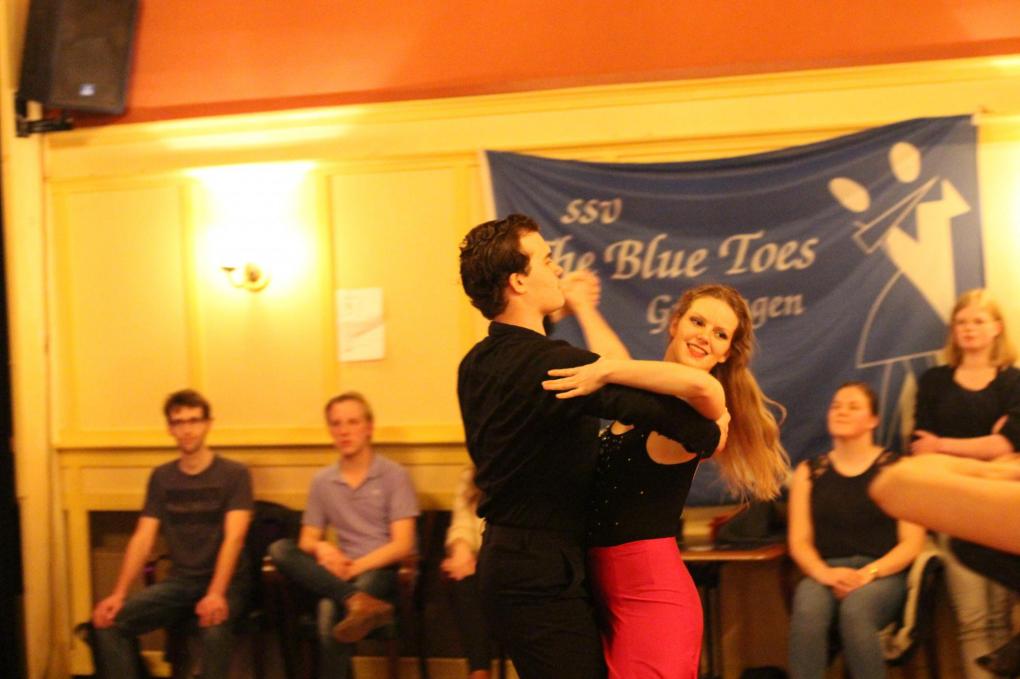 ---
Florélie Rogier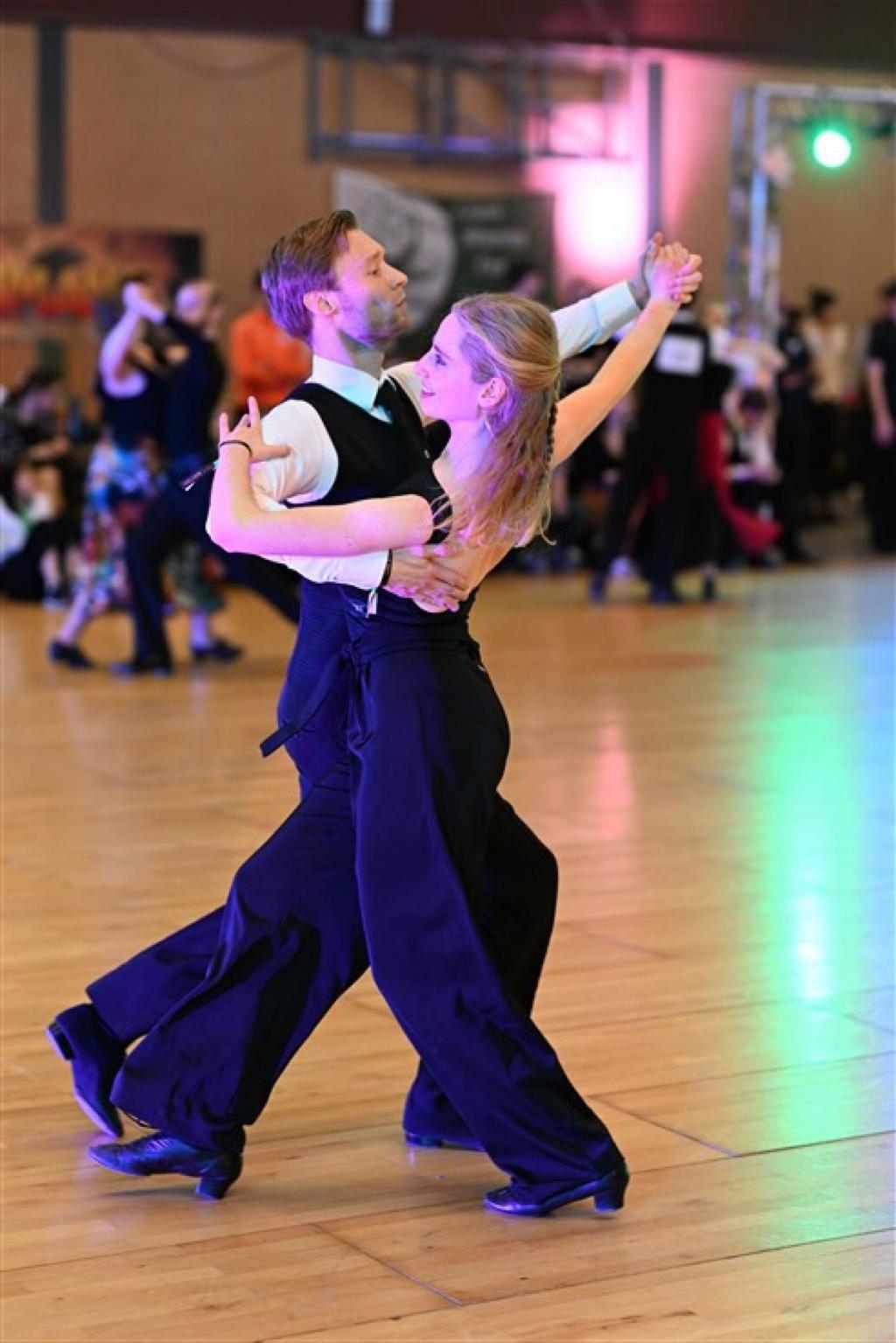 ---
Externe Docenten
Anneke Poort
I have danced with Etienne since 2009. I have latin experience with previous dance partners, but with Etienne I have focused on the Standard dances. We started at the dance federation NADB and in 2011 we were promoted to the 'Hoofdklasse", highest class of the NADB. In 2012 we also started dancing at the WDC (Dutch AL). Here we danced in the highest class "Masterclass" and always ended up at the top 3. In January 2018 we have switched to the Professionals. Since 2017 we have been teaching Advanced 3 and Far-Advanced. Super enthusiastic dancers and eager to learn. With a combination of choreo and technique we want and hope to improve our group. My dance slogan is "Just do it". Sounds easy, but sometimes it's pretty difficult. My favorite dance is the Tango. Compact and tight movement with also moments of "breathing" I find very nice and nice to dance.
---
Etiënne Hoogstraten
As a young kid of 9 years old I started dancing and immediatly I went into the competitions n the class of 9 to 12 year olds by the national member NADB. Not knowing that 22 years later I would be teaching here in Groningen as an active Professional Ballroom dancer dancing at World and European Championships representing the Netherlands. My opinion about competitions is about the 2 things you need: Technique and Performance. The technique you train with your brains and the performance you train with your heart. You will need both to have the ultimate Dance sensation.
---
Marcus van Teijlingen
My name is Marcus van Teijlingen, I am a professional dancer. I have been sent to European Championships and World Championships all over the world. Gradually I've become the oldest professional who is still active and I want to show that it doesn't matter how old or young you are: dancing is for everybody! By now I've enjoyed working for The Blue Toes for 6 years. I always love to work with all the students. Especially since most students are so busy with their minds, I try to make them conscious of their body. Every week is a surprise. Of course there is a build-up in what I do, but I prepare my classes as little as possible to be able to react spontaneously to what the group needs at that moment. I hope to continue doing this for many years with many different boards, it's different every time but that's fun!
---
Salsa
Interne docenten
Chakir Bouziane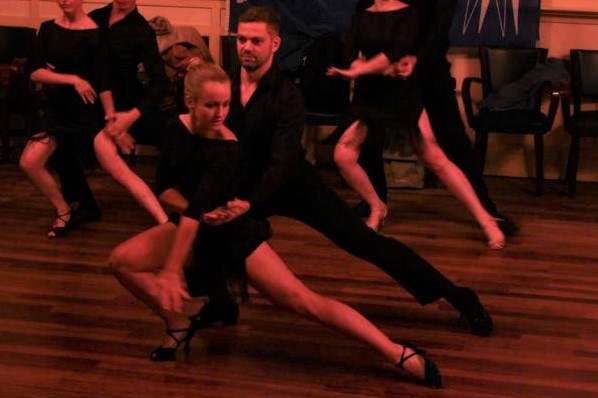 Hi! I am Chakir.
I work, since a few years, as IT specialist in a hospital. After being dragged by a sparring partner for a salsa course in 2013, I stayed for the nice ambiance. I started the sprint ballroom course in 2014, joined the demoteam 2 years after and joined the new salsa demoteam too. During those years I have become more and more active in the society, starting with 2 years AC, board and in 2019 the organisation of the ETDS in Groningen. At the moment I am in the RVA, Wegcie and NTDScie. A few years ago I started giving the workshops salsa and bachata for the Blue Toes, which I really enjoyed, and these were becoming more in demand per year. It is really nice to see people return to the lessons and parties after giving those workshops, and see them enjoy the dancing. I hope I contributed to that enthusiasm for (salsa)dancing. My dance partner and I teach this year salsa 1c, which is a nice addition to this hobby that got out of hand!
---
Lisette Stam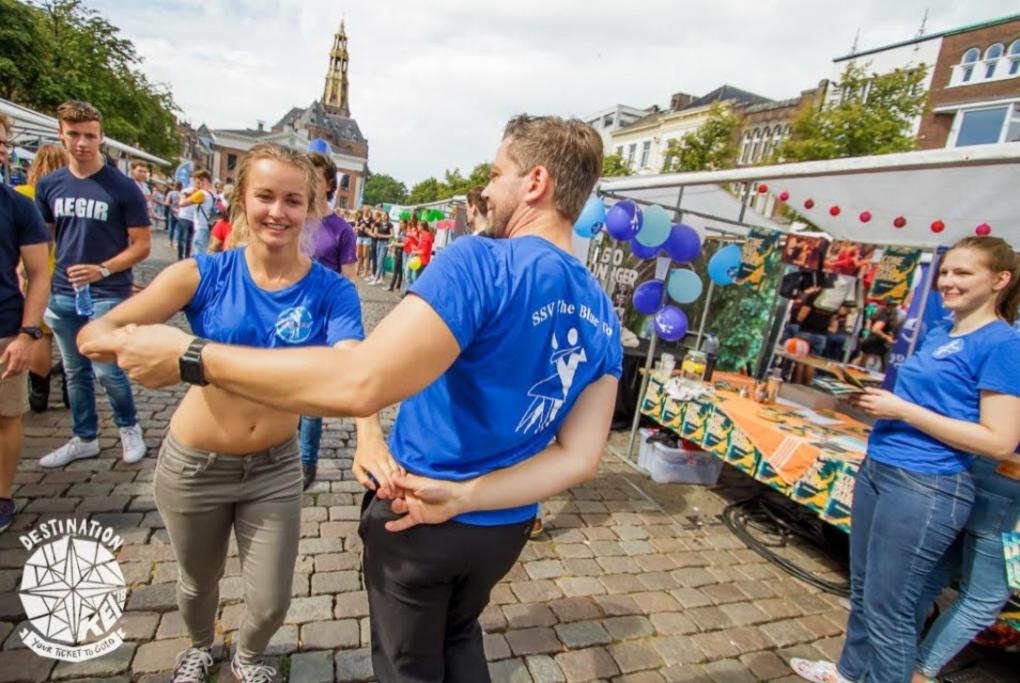 Hi everyone. My name is Lisette, I am 24 year old and dance since 2016 in our society. I started out dancing salsa, after trying the aclo course, but soon wanted to learn more. After a half year of dancing salsa I still wanted more, so I signed up for the sprint course ballroom. Now, 5 years later, I actively dance competitions with my partner Chakir. For whomever that want to make that step as well, I am also active as competition coordinator for our society. Next to that, you can find me in both demoteams promoting our sport. In the past I have organized the ETDS and will organize the Dutch version in Groningen as well (NTDS Groningen 2023!!). While this seems like a lot of ballroom, during this time I've remained active within salsa. I have followed all courses as both follow and lead, and now teach my own group and hope to make more people as enthusiastic of dance as I am. The most important bit of salsa is the people and the parties, and luckily, you are able to come to a party with only basic knowledge, which you will learn in the first 2 lessons. So no excuses, I hope to see you all there.
---
Loes Holleboom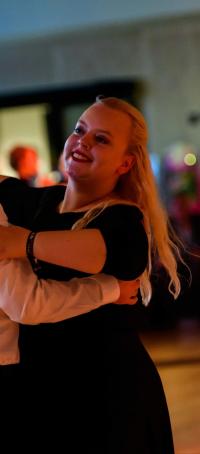 Hi, I'm Loes and I'm 25 years old. I started at the association in 2018 and started there with salsa and ballroom dancing. When I was younger I danced jazz ballet/street dance and then started zumba at a dance school that also taught ballroom dancing. It wasn't until 3 years after the start of my studies that I decided to really start with ballroom dancing and salsa and I haven't stopped since. I am now assisting John with all his salsa classes, I'm one of the salsa workshop teachers, I'm teaching the salsa beginners B class together with Chakir, I'm in the salsa demo team where I'm also demo coordinator. In terms of ballroom dancing, I dance Advanced 3 with my dance partner Tom and we occasionally do competitions. I hope to see you at a salsa party, at a Blue Toes dance evening or in one of the classes!
---
Klodia Saado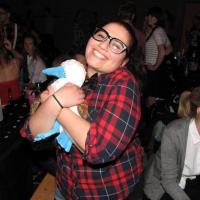 Hello everyone, I'm klodia and I've been teaching salsa beginners since this year. My dance career has started in high school. There I learned my first salsa steps from Marloes. During college, I started an ACLO salsa course with a friend after which I stayed at the Toes. From that moment on I never stopped dancing. After having danced several years myself, I became an assistant in John's lessons and later in the lessons from Omri. In addition to assisting, I also gave workshops inside and outside the association. This made me realize that I really enjoy teaching. Now I'm a teacher (never thought this would to happen). I enjoy it very much and hope that people in the class like it as much. See you in class and on the dance floor!
---
Externe docenten
---
Marloes van der Ark