Dance teachers
Ballroom
Sprint Beginners: Djurre de Boer and Ylse Wierda
Beginners A: Idsert Timmer and Rianne Kingma
Beginners B: Matthijs Spaan and Susanne Dijkstra
Advanced 1: Daniël Lourens en Matthijs Slaghekke
Advanced 2: Daniël Lourens, Ylse Wierda and Astrid van den Hoogen
Advanced 3 and Far Advanced: Etiënne Hoogstraten and Anneke Poort
Technique lesson and Demoteam Training: Marcus van Teijlingen
Salsa
Salsa 1 t/m 4 A: Omri Jerushalmi
Salsa 1 t/m 4 B: John de Vries
Salsa 1 C: Chakir Bouziane en Lisette Stam
Demoteam Training: Karin van Caspel
---
Astrid van den Hoogen
Hi there. I am Astrid van den Hoogen, dance fanatic. Next to my job as a doctor I tend to spend (too) much time on my hobby. Before my membership with the Blue Toes I danced for a little while in Wijchen, while I still lived with my parents. But my real dance years started when I became a member of this nice society five years ago, where I started in the dance group advanced 1. Meanwhile I don't dance group lessons anymore, but I'm very active in training and dancing competitions with Idsert Timmer. This year will be the third year I'm teaching within the Blue Toes. This year I teach beginners B and advanced 1, which I enjoy very much. Next to teaching I am active as competition coordinator and I joined the Gala Committee. So in short, you can never have enough dancing in your life. Please start dancing more and more, it will make / keep you very happy!
---
Daniël Lourens
Hiya! My name is Daniël Lourens and, together with Susanne, I'll be teaching Beginners A this year. I study Applied Social Psychology, but I'd much rather waste my time dancing. Everything has to make way for it! I started ballroom dancing six years ago, and I've enjoyed every single step since. Susanne and I have been dance partners for two years now, and we jumped into competitions right away. This goes well! Personally, I think it's important the dance is clean. I like to have precise know-how of every single step. Mastering the details doesn't just make it look easier, it really becomes easier! Learning that, on the other hand, is often quite challenging. I love that challenge. Don't be afraid to ask tough questions in class either. As long as we're still having fun, of course! I also dance in our demoteam, and I'm the chair of the Music Committee. For fun, I like to play the guitar, play board games, and go out for drinks. You probably won't miss me during Blue Toes events either, because aside from dancing I enjoy the nature of this spirited association and even more spirited members. It made me feel welcomed and gave me the opportunity to develop as an enthusiastic ballroom dancer. This, obviously, I wish upon everyone, and so it is with great joy that I get to teach you in our class!
---
Djurre de Boer
Hi, I am Djurre de Boer and will admit I'm addicted to dancing. This year I teach the advanced 1 lesson together with Astrid. I have already danced for many years, I started in September of 2004. And I joined the Blue Toes in 2015. Through these years I've learned many different styles but always came back to Ballroom and Latin dancing. I do still regularly compete in competitions and I attend dance evenings. If you ever got questions, just ask them, I'm glad to help.
---
Helena Vis
Hi! My name is Helena. I've been dancing almost all my life. As a child, I did ballet, jazz-ballet and show-musical ballet. In 2008 I started ballroom dancing at the Blue Toes. I've been teaching since 2010. I also dance salsa every now and then. Apart from dancing, I did a lot of other things at the Blue Toes. I was in the board, photo committee, activity committee, redaction, almanac committee, NTDS committee, gala committee, promotion committee and acquisition committee and I organised the training weekend a few times. I advise everyone to join a committee or at least go to one of the activities.
---
Kim Wastenecker
Hi! I am Kim Wastenecker and I'm 26 years old. I teach advanced 2 on Fridays, together with André Offringa and Jasmijn Tolsma. I've been dancing with The Toes for six years myself, and I've danced every group by now, some even as a lead. I've been in many committees, like the activity committee, yearbook committee, magazine committee, advisory board, and competition coordinator, but I've also spent years with the demoteam and I've been treasurer for the board. And I've been active in the board of ETDS Gronignen, which was in October 2019. I've been dancing for quite some tiem, I started streetdance when I was six. When I was 13 I started teaching streetdance and three years ago, I started teaching ballroom dancing. In my daily life I teach math at a high school in Groningen, Het Wessel Gansfort. Besides this all I love games, jigsaw puzzles and being creative. Hopefully I'll see you in class!
---
Matthijs Slaghekke
My name is Matthijs and I'm 27 years old. I did the bachelor economics of taxation, followed by the master international business. Now I work in Leeuwarden as a CDD analist. My hobbies are reading, gaming and of course ballroom dancing. This year I will be teaching the course Beginners B together with Astrid. Next to that I also have a small role as a member of the treasury committee and a member of the Master Beren who ran the last few editions of the pubquiz.
---
Neele Kruijsse
Hi I'm Neele and starting this year I will be teaching the Sprint beginners course together with Steven! This is my fourth year with the Toes and since I joined I have loved every second. Before I joined the association I had taken a short course on ballroom dancing and was immediately sold. I love everything about dancing, the music, the dresses…. And since I've joined the Toes especially the people. I can honestly say I've made better friends in this association than I ever expected I would. Together with my partner Matthijs I dance the far-advanced class, and since this season we are also competing in the NADB. This is extremely fun, but is dramatically complicating my life because I am always trying to make time for dance. Aside from that you can find me in our demo team, at open dance evenings or in the technique lessons.
I hope my lessons will be educational but mostly a lot of fun, and I can't wait to help and watch others discover their love for dance. See you on the dance floor!
---
Susanne Dijkstra
Hi! My name is Susanne and this year I will be teaching the beginners A group on Monday with Daniël. On September 9th 2015 I was dragged to my very first dance evening by a friend, because we wanted to pick up a new sport together and our plan was to try a bunch of different things. I have to admit that I wasn't really looking forward to the dancing evening (shame…!), but at the end of the night I was hooked on dancing! I didn't want/need to try out any other sports, because I have never enjoyed anything as much as I enjoy ballroom dancing :)
As of two years, me and Daniël are dancing competitions, lessons and demoteam together. I lived in Utrecht for a while last year, which made training a little difficult. That's why in May, I decided to move back to Groningen.
I am very excited to share my love for dancing this year! See you in the lessons!
---
Steven Reijntjes
I've started dancing in 2010 when I joined the Blue Toes sprint beginners course with no talent for dancing whatsoever and not knowing how much fun dancing could really be. The Blue Toes quickly made me feel at ease and I couldn't wish for a more enjoyable society. I only really started to catch the dance fever after participating at an ETDS (European Tournament for Dancing Students). I can recommend this competition to everyone, not matter your skill or how long you've been with the Blue Toes!! It's a great competition for starters because it's more of a party than an actual competition. I'll admit that earning a trophy is definitely a cherry on top of the cake, but it took me three competitions to claim my first trophy as well. The Blue Toes for me was a place for self-development. I actively participated in the society as board member, part of the music committee, competition and demonstration dancer and of course as a teacher. After 5 years of teaching I still very much enjoy it and I hope that I can inspire everyone who steps foot in my classes to become just as enthusiastic about dancing as I am. See you on the dance floor!
---
Anneke Poort
I have danced with Etienne since 2009. I have latin experience with previous dance partners, but with Etienne I have focused on the Standard dances. We started at the dance federation NADB and in 2011 we were promoted to the 'Hoofdklasse", highest class of the NADB. In 2012 we also started dancing at the WDC (Dutch AL). Here we danced in the highest class "Masterclass" and always ended up at the top 3. In January 2018 we have switched to the Professionals. Since 2017 we have been teaching Advanced 3 and Far-Advanced. Super enthusiastic dancers and eager to learn. With a combination of choreo and technique we want and hope to improve our group. My dance slogan is "Just do it". Sounds easy, but sometimes it's pretty difficult. My favorite dance is the Tango. Compact and tight movement with also moments of "breathing" I find very nice and nice to dance.
---
Etiënne Hoogstraten
As a young kid of 9 years old I started dancing and immediatly I went into the competitions n the class of 9 to 12 year olds by the national member NADB. Not knowing that 22 years later I would be teaching here in Groningen as an active Professional Ballroom dancer dancing at World and European Championships representing the Netherlands. My opinion about competitions is about the 2 things you need: Technique and Performance. The technique you train with your brains and the performance you train with your heart. You will need both to have the ultimate Dance sensation.
---
John de Vries
I would like to introduce myself to you: I am John de Vries and (together with my assistants) I teach salsa for The Blue Toes!
When I discoverd salsa around 2001, I immediately became contaminated with the salsa virus. The music was so cheerful and rousing, almost magical. The moves were mysterious with a high WOW! factor. The rare parties of that time were so convivial: alcohol was drunk modestly and (therefore) there was no agression. People came to dance, to see and be seen. On a salsa night you wore suitable clothes, which ususally didn't see the sunlight during the week. Actually, not a lot has changed since then.
Now you might think that everything came easily to me, that I was talented? Not at all. I found salsa dancing very difficult: the beat, leading, how and where to position and which hand to use when? I learned salsa by being on the dance floor a lot. And by practising at home with the help of friends and video's, dvd's and later clips on the internet. I once said: "If I had put as much time in my studies as in dancing, than I would have become a brain surgeon.".
I have formulated my own goal as follows: "to make people enthousiastic about salsa." I'm still succeeding at that. A Spanish student, who had done a salsa beginners course with me, once reached out to me via Facebook. She thanked me, because she became enthousiastic for the bachatta because of me. Shortly before she wrote me, she had become a dancer in a bahatta showteam in Barcelona. That's a buzz for me! I also like to tell that some current salsa teachers (one of which a Dutch salsa champion!) have danced their first salsa steps with me.
Unfortunately, at the time I have less time than before for my hobbies: salsa dancing and teaching, going to the pub with friends for a beer/coffee/chai tea latte. I do still visit every home match of 'The proud of the North' (our local soccer club).
I won't become a brain surgeon anymore: at the moment I'm studying at NHL/Stenden to become a math teacher. Fun to do, although it takes up a lot of energy and effort from me. So I'm no stranger to study stress!
If you'd like to know more, come chat with me!
---
Marcus van Teijlingen
My name is Marcus van Teijlingen, I am a professional dancer. I have been sent to European Championships and World Championships all over the world. Gradually I've become the oldest professional who is still active and I want to show that it doesn't matter how old or young you are: dancing is for everybody! By now I've enjoyed working for The Blue Toes for 6 years. I always love to work with all the students. Especially since most students are so busy with their minds, I try to make them conscious of their body. Every week is a surprise. Of course there is a build-up in what I do, but I prepare my classes as little as possible to be able to react spontaneously to what the group needs at that moment. I hope to continue doing this for many years with many different boards, it's different every time but that's fun!
---
Omri Jerushalmi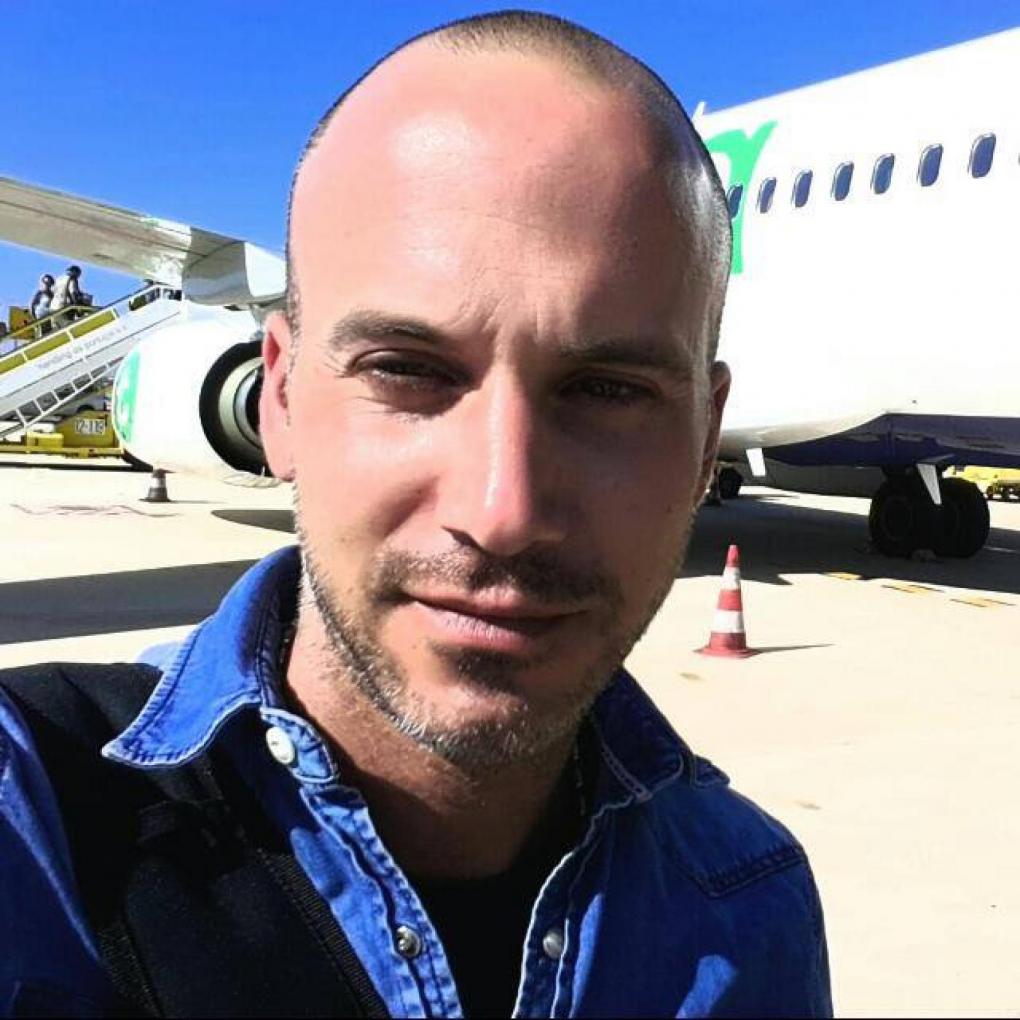 Hola! My name is Omri Jerushlami and I teach salsa for the Blue Toes on thursday evenings since February 2019. 8777777777777789. These numbers are here because there is a cat walking over the keyboard as I am writing this. Anyway, I very much enjoy teaching for The Blue Toes, because the students are relatively young and therefore they pick things up quickly. It is very satisfying when you see people you teach grow fast! #catlover
I myself started salsa dancing in 2008. It was literally a broken heart that brought to my trial class. My thoughts went out to being able to dance salsa and winning back the heart of my ex girlfriend, who could dance already. That didn't work unfortunately, but in the meantime a new love was found! Since then I can't be kept of the dance floor. A whole new world opened at the first parties. I remember how impressed I was by the good dancers. #mind-blown!
I wanted that too and I became more and more fanatical and with the (salsa dancing) years passing, the desire to teach myself came more and more often. During my own classes I automaticaly paid attention to how they were taught. Seemed so much fun to do. In 2018, this came true and now I weekly drill salseros and saleras with basic steps and new figures. #new-love!
Within the salsa classes I find a few things very important. Basic, knowledge of figures, musicality and connection. I hoop to meet you soon in one of the classes or on the floor. #keepondancing